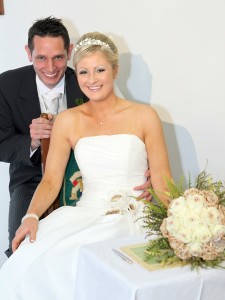 How will I know what to expect?
The Chaplain and Wedding Coordinator are available to answer all your questions and concerns. Upon arrival in Cyprus we will meet together to go over all details of the Service. You can email the Chaplain at chaplain@stbarnabas-cyprus.com or the Wedding Coordinator at weddings@stbarnabas-cyprus.com or use our online contact form for more information.
Will the Service be in English?
Yes. The Service follows the Anglican Marriage Service format and is in English.
Can be we married anywhere other than St Barnabas' Anglican Church?
Yes. The hotel Chapels are also popular but alternative venues can be discussed on an individual basis.
Do you carry out same sex marriages at St Barnabas'?
Throughout our diocese we do not conduct christian marriages for same-sex couples.  The Republic of Cyprus only recognises a marriage between a man and a woman.
Will our marriage be recognised in our home country (or countries)?
Weddings at St Barnabas' (or conducted by one of our Chaplains at any other venues) are carried out in accordance with the laws of the Republic of Cyprus , and are recognised under UK law and generally internationally. However, some countries do have particular rules and regulations about overseas marriages , and for these countries the certificate can be validated with the help of your wedding planner or the wedding co-ordinator, before you leave Cyprus.  If you are in any doubt you should check with your embassy.
How long does the Service take?
About 40 minutes.
How can I obtain an affidavit?
On arrival in Cyprus take the appropriate form to the Court for signature. This is very easy and cheap. Alternatively your solicitor in England can prepare the form for you in England.
How do I pay the deposit in euros?
Your bank will prepare a euro cheque which can be mailed to us.
What does it cost?
The current fees for Weddings, Marriage Blessings and Renewal of Vows ceremonies – whether at St Barnabas 'Anglican Church or at an alternative venue – are as follows:
Wedding: € 600
Marriage Blessing: € 390
Renewal of Vows: € 390
For services held at St Barnabas' Church the Organist is available at a fee of €85 or with a soloist for a combined fee of  €120.
The Cypriot authorities currently charge in the region of €282 for the special marriage licence required for the marriage to take place.
---
For some more helpful information about weddings in Anglican churches visit www.yourchurchwedding.org.  Please remember that although the site has useful information on music, vows and other aspects of Anglican marriage services, on all legal matters we follow the laws of Cyprus.