If you are looking for a fabulous wedding in Cyprus, we can help!
Weddings, "Blessings", Renewals of Vows – how do I know which to ask for?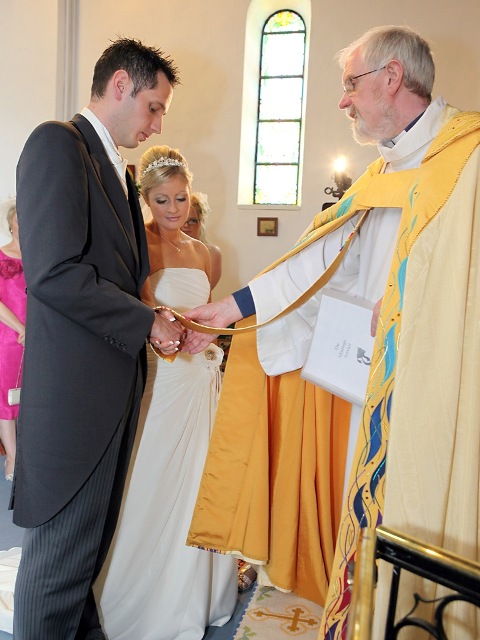 A Wedding service is for those who are not already married in the sight of the law.
A Blessing is shorthand for a Service of Prayer and Dedication after Civil Marriage.
A Renewal or Reaffirmation of Vows can also be prompted by all kinds of different reasons: a special anniversary, a recovery from illness, the end of a difficulty you have faced, the buying of new rings.
(Click on the picture to see more wedding pictures)
Weddings
What we would like is…
Traditional/modern wedding
Wedding in church/somewhere else
Informal wedding
Big wedding/small wedding
Unique wedding
To make our vows before God
Weekend / midweek wedding
Our choice of music for the wedding
An unusual reading at the wedding
Can we do this?
In general terms the answer is: "Yes, we'll certainly try. Talk to us about what you hope to achieve to make your wedding special and unique".
It is our joy and privilege to work with you to achieve the dream wedding because we want it to be the start of a dream marriage.
Weddings at St Barnabas' (or conducted by one of our Chaplains at any other venues) are carried out in accordance with the laws of the Republic of Cyprus, and are recognised under UK law and generally internationally. However, some countries do have particular rules and regulations about overseas marriages, and for these countries the certificate can be validated with the help of your wedding planner or the wedding co-ordinator, before you leave Cyprus.  If you are in any doubt you should check with your embassy.
What you need to get married in Cyprus
The Anglican Church and Cypriot authorities require that you bring the following documents with you.
Your passports
Your original birth certificates
Copies of your witnesses' passports
An affidavit stating you are free to marry. This can be obtained in UK or more cheaply on arrival in Cyprus.
If either partner is divorced, widowed or have changed their name you will need to provide…

Divorced – original decree absolute
Widowed – the deceased's original death certificate
Change of name – the original deed poll documents.

A special Marriage Licence obtained from the Limassol Municipality upon arrival in Cyprus. Obtaining the necessary documents in Cyprus is quite straightforward and we will assist you as much as possible.