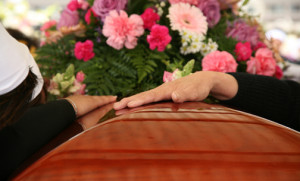 Officiating at a funeral is a service offered by the Anglican Church here in Cyprus, as it would be in England, where Anglicans have a care for the whole community. In other words we offer this service to anyone who requests it for a loved one, regardless of their (or your) church background. The form of service we offer is in the Anglican form and translation and the service is in English.
Below are answers to some questions often voiced during the difficult time after the loss of a loved one.
What kind of funeral is possible here?
Broadly there are two kinds of funeral service: a graveside service or a service in church followed by committal at the graveside. The church fee is identical in either case: 250 euros  (normally paid via the funeral director).
There is no crematorium on Cyprus yet.
Most funerals in Limassol district are organized by Archangel Funeral Services (www.archangelfunerals.com) although there are other Funeral Directors elsewhere on the island.
When arranging the time of a funeral, it is important to remember that even in spring and autumn the weather can be very hot for mourners standing in the sun, and occasionally the problem of torrential rain has to be dealt with.
Where would I be buried?
People with a British passport and their spouses can be buried at the British Cemetery on the boundary of Kolossi and Erimi. It is run by trustees as a non- profit making charity. Usually Orthodox cemeteries in this district restrict burial to those baptised Orthodox. There are exceptions, sometimes by village, sometimes because a particular resident is being honoured by the local community.
Do we have music at a funeral?
The organist can play for a funeral at St. Barnabas' church and a soloist can sing. The additional fee for an organist is 85 euro or for an organist and soloist it is 120 euro. Some people play recorded music at funerals. At a graveside funeral bear in mind there will be no electricity supply.
I'm worried about being too emotional
Grief is a healthy God-given reaction to the death of a loved one. Bottling up our feelings and appearing to be in control is not doing God, your family, your friends and certainly not yourself a favour.
But my circumstances are different!
Do you bury ashes?
Yes, if a cremation has taken place outside Cyprus, the cremated remains can be buried in the British Cemetery on the same basis of entitlement as above.
I can't get to the funeral in my home country
Why not come to the church at the time of the funeral either to pray privately or we can arrange to pray with you?
Do Anglicans have memorial events like the Orthodox?
Once a year, usually the Sunday before or after 1st November at 6pm we will have a Service of Thanksgiving & Remembrance. Names are read aloud and some names are recalled silently at this service. All are welcome. Again some people who cannot be there in person may do their remembering at that time in whichever part of the world they happen to be.
We couldn't have a "proper funeral" at the time
There could be many reasons why. Perhaps your baby was miscarried or stillborn, and people at that time thought they could lessen your pain by not holding a service or did it without involving you. It is not too late.
They didn't include me, because they thought I was too young
They made a mistake – perhaps with the best intentions. It is not too late to pray and to begin to move on.